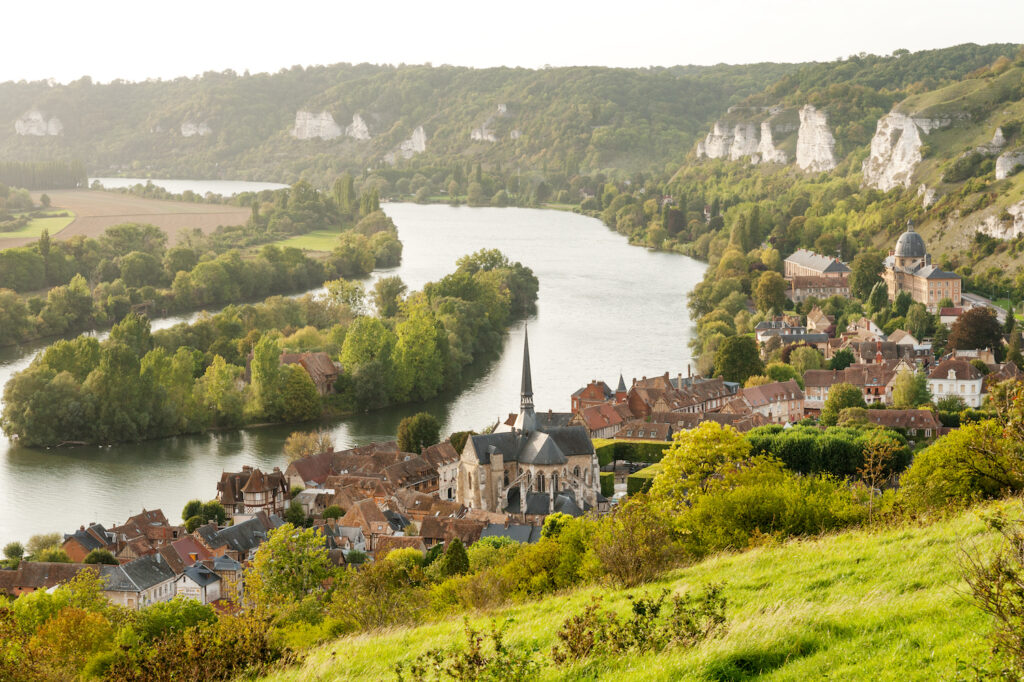 A remarkable heritage
Cradle of Normandy, the Vexin is a region steeped in history, with a wealth of châteaux, abbeys, pretty villages and splendid gardens, the one at Claude Monet's house in Giverny being the most famous. The region has inspired painters, notably the impressionists, writers and poets. A change of scenery, a breath of fresh air, nature and culture are guaranteed, only 1 hour from Paris.
Within a radius of 30 km from La Lévrière, many prestigious châteaux open their doors to you : Château Gaillard, La Roche Guyon, Boury en Vexin, Bizy, Gaillon, Fleury sur Andelle, Martainville… as well as renowned abbeys in Mortemer, St Germer de Fly or Fontaine-Guérard.
The must-sees of the Vexin Normand
Gisors
Its castle, built in 1097 by William the Red, King of England and son of William the Conqueror, to watch over the Epte, the river separating the Anglo-Norman states from France, was marked by the history of the Templars. Its church of St Gervais and St Protais is one of the most beautiful buildings in Norman religious heritage. Its proportions and the enrichments it underwent give it the appearance of a cathedral.
Lyons la Forêt
Very lively village classified as one of the hundred most beautiful villages in France. Built on the site of a 12th century castle, old brick houses alternate with half-timbered houses. 18th century covered market. Numerous hiking trails to discover the largest beech forest in Europe, one of which leads to Mortemer Abbey.
Château de Vascoeuil
Vascoeuil is a small Norman village on the edge of the Lyons forest, typical of the brick and half-timbered houses. It is famous for its castle, which has become one of the liveliest contemporary art centres in Normandy.
Giverny
Monet moved to Giverny in 1883 to paint the famous "Water Lilies". The Claude Monet Foundation is the famous birthplace of Impressionism. The Giverny Museum of American Art celebrates the relationship between French and American art.
Vernon
5km from Giverny, this charming town with its half-timbered houses, its collegiate church, its castle, and of course, its old mill on the Seine, is worth a visit.
La Roche Guyon
Carved into the chalk and flint cliffs, the village of La Roche Guyon is listed as one of the most beautiful villages in France, with its troglodyte dwellings, its 12th century keep overlooking the castle, its stables and its remarkable gardens.
Château Gaillard
Majestic fortress built by Richard the Lionheart in the 12th century. Its famous ruins on the banks of the Seine offer a magnificent panorama of the town of Les Andelys.
Gerberoy
Classified as one of the most beautiful villages in France and famous for its rose festival. With its cobbled streets and flowery facades, it was revealed to the general public thanks to the intuition of a painter, Henri le Sidaner.
Saint Germer de Fly's abbey
The village is well known to medieval historians and lovers of architecture thanks to its 12th century abbey church and its 13th century Sainte Chapelle, a copy of the Ste Chapelle in Paris.
Reilly
A small medieval village, very well preserved and quiet, just next to Chaumont en Vexin. Its beautiful old stone houses, its old wash house, its castle, its church and its beautiful abbey give it an undeniable charm.
Rouen
1 hour from La Lévrière, the historic centre of Rouen is a treasure trove with its old residential buildings, its cathedral which inspired Claude Monet and its big clock, emblem of the city.
Our village : Saint Denis le Ferment
A village where life is good, charming with its beautiful houses and the river La Lévrière, from which our guest house takes its name, which runs through it. To see: the church dating from the 12th and 13th centuries, whose 18th century choir is listed as a Historic Monument; the castle and its postern and the manor. On the heights, in a pretty and very secret setting, is the Sainte Austreberthe chapel, founded by the Bernardine nuns of the Cîteaux order.
Where to find local products
Apples, juice, cider, beer, cheese… the Vexin Normand is a gourmet destination, with many local producers.
Apples, pears, and apple juice
Le verger d'Angèle, Bezu Saint Eloi
Emmanuel Drique, organic farming,
02.32.55.17.59.
https://www.facebook.com/vergerdangele
Organic and artisanal bread and cheese
Le chant des Meules
Organic bread made by David Nadaud, farmer baker and organic goat cheese made by Camille Dutry, goat cheese maker.
Direct sales at the farm on Friday evenings from 5pm to 8pm and on Saturday mornings from 10am to midday. You can pet the goats while waiting, a great outing with children.
Craft beers
Brasserie de Sutter
Made with love and hops, in Gisors. To drink on the spot or to take away. Open from 10am-12.30pm and 1.30pm-7pm Monday to Saturday. Visits on Saturday from 10.30am to 12pm.
Tél 02 32 27 57 17.
La ferme Derly
Gathers in a covered market producers and craftsmen of the Vexin Normand region. Open from Wednesday morning to Sunday from 9.30am to 12.30pm and from 2.30pm to 7pm.
Tel : 02 32 27 56 10.
Route Nationale 14
27420 Les Thilliers en Vexin.
Market in Gisors
Friday and Sunday mornings from 8.30am to 1pm.